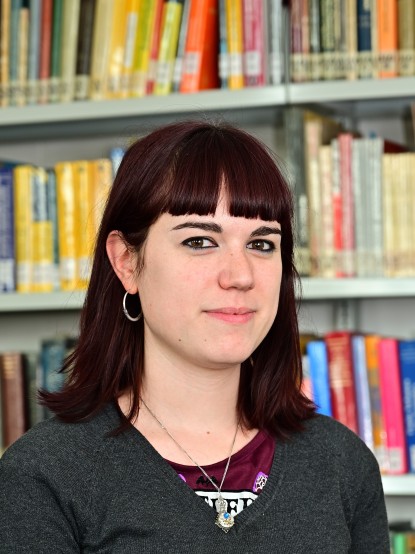 Dr.-Ing.
Idoia Cortes Garcia
System Simulation
Working area(s)
Junior research group leader multiphysical system simulation
Contact
idoia.cortes@tu-...
work +49 6151 16-24392

Work S2|17 39
Schloßgartenstr. 8
64289 Darmstadt
Circuits of superconducting accelerator magnets are complex systems with components combining technologies from several engineering fields, show strong mutual interactions and can contain up to thousands of components. The transient phenomena occurring in the circuit can be consistently captured only if the simulation includes the components' mutual influence. It is desirable to solve this type of multi-physics, multi-scale, and multi-rate problem using an intrinsically consistent monolithic approach. However, this can lead to non-acceptable computational times. At the same time, it is worth noting that no currently available multi-physics simulation tool covers the full range of phenomena. This research is part of the STEAM project. It deals with the analysis of the coupled models, e.g. with respect to their differential-algebraic-equation index and investigates efficient co-simulation methods, e.g. based on waveform relaxation, to exploit the multi-rate behavior.
2020: Dissertation is recognized as outstanding Ph.D. research by Springer ("The Best of the Best")
2020: Young Scientist Award at SCEE 2020 which recognizes outstanding achievements and contributions of young scientists
2019: Junior membership of GAMM (Association of Applied Mathematics and Mechanics) for outstanding achievements in diploma and/or doctoral theses in the field of applied mathematics or mechanics.
2021
Schöps, Sebastian ; Bortot, Lorenzo ; Cortes Garcia, Idoia ; Mentink, Matthias (2021):
Multiphysical Modeling and Simulation of CERN's quench protection system.
In: 14th World Congress in Computational Mechanics and ECCOMAS Congress, Paris. URL: https://virtual.wccm-eccomas2020.org. [Talk]
Pade, Jonas ; Cortes Garcia, Idoia ; Schöps, Sebastian ; Tischendorf, Caren (2021):
Waveform relaxation for low frequency coupled field/circuit DAEs: Topological convergence criteria.
In: 21st European Conference on Mathematics for Industry (ECMI 2021), Wuppertal. European Consortium for Mathematics in Industry. [Talk]
Cortes Garcia, Idoia ; Egger, Herbert ; Shashkov, Vsevolod (2021):
MONA – A magnetic oriented nodal analysis for electric circuits.
Cornell University, ARXIV: 2108.05143. [Preprint].
Cortes Garcia, Idoia ; Kulchytska-Ruchka, Iryna ; Schöps, Sebastian (2021):
Parareal for Higher Index Differential Algebraic Equations.
Cornell University, ARXIV: 2107.07755. [Preprint].
Cortes Garcia, Idoia ; Pade, Jonas ; Schöps, Sebastian ; Tischendorf, Caren (2021):
Waveform relaxation for low frequency coupled field/circuit differential-algebraic models of index 2.
In: Scientific Computing in Electrical Engineering SCEE 2020, Mathematics in Industry. Springer. ARXIV: 2005.13272, forthcoming. [In Proceedings]
Cortes Garcia, Idoia ; Schöps, Sebastian ; Bortot, Lorenzo ; Mentink, Matthias. Mathematical Modeling, Simulation and Optimization for CERN's Quench Protection System. In German Success Stories on Mathematics in Industry, volume 35 of Mathematics in Industry. Springer, 2021, forthcoming. [In Collection]
2020
De Gersem, Herbert ; Cortes Garcia, Idoia ; D'Angelo, Laura ; Schöps, Sebastian (2020):
Magnetodynamic Finite-Element Simulation of Accelerator Magnets.
In: CAS - CERN Accelerator School: Numerical Methods for Analysis, Design and Modelling of Particle Accelerators, 11-23 November 2018, Thessaloniki, Greece, 250–281. URL: https://cas.web.cern.ch/previous-schools, ARXIV: 2006.10353. [In Proceedings]
Cortes Garcia, Idoia ; Kulchytska-Ruchka, Iryna ; Clemens, Markus ; Schöps, Sebastian (2020):
Parallel-in-Time Solution of Eddy Current Problems Using Implicit and Explicit Time-stepping Methods.
In: IEEE 19th Biennial Conference on Electromagnetic Field Computation (CEFC 2020). DOI: 10.1109/CEFC46938.2020.9451465, ARXIV: 2012.07603. [In Proceedings]
Cortes Garcia, Idoia ; Kulchtska-Ruchka, Iryna ; Schöps, Sebastian (2020):
Implicit and Explicit Time Integration Methods for Parareal in Magnetoquasistatic Problems.
In: Workshop on Advances in Electromagnetic Research – KWT 2020, Virtual Conference. URL: http://maxwell-in-motion.org. [Talk]
Cortes Garcia, Idoia ; Schöps, Sebastian ; Strohm, Christian ; Tischendorf, Caren (2020):
Generalized elements for a structual analysis of circuits.
In: Progress in Differential-Algebraic Equations II, Differential-Algebraic Equations Forum. Springer. ISBN: 978-3-030-53904-7, DOI: 10.1007/978-3-030-53905-4, ARXIV: 1912.05199. [In Proceedings]
Cortes Garcia, Idoia (2020):
Mathematical Analysis and Simulation of Field Models in Accelerator Circuits. Technische Universität Darmstadt, Darmstadt. ISBN: 978-3-030-63272-4, DOI: 10.1007/978-3-030-63273-1, Springer Theses: Recognizing Outstanding Ph.D. Research. [Dissertation]
Cortes Garcia, Idoia ; Pade, Jonas ; Schöps, Sebastian ; Tischendorf, Caren (2020):
Waveform relaxation for low frequency coupled field/circuit differential-algebraic models of index 2.
In: 13th Conference on Scientific Computing in Electrical Engineering (SCEE 2020), Eindhoven. URL: https://www.scee-conferences.org/. [Talk]
Cortes Garcia, Idoia ; Schöps, Sebastian ; Strohm, Christian ; Tischendorf, Caren (2020):
Generalised elements for the analysis of refined models in circuits.
In: 13th Conference on Scientific Computing in Electrical Engineering (SCEE 2020), Eindhoven. URL: https://www.scee-conferences.org/. [Talk]
Cortes Garcia, Idoia ; De Gersem, Herbert ; Schöps, Sebastian (2020):
A Structural Analysis of Field/Circuit Coupled Problems Based on a Generalised Circuit Element.
In: Numerical Algorithms, 83, (1), pp. 373–394, ISSN: 1017-1398, DOI: 10.1007/s11075-019-00686-x, ARXIV: 1801.07081. [Article]
Cortes Garcia, Idoia ; Kulchytska-Ruchka, Iryna ; Schöps, Sebastian (2020):
Efficient Simulation of Field/Circuit Coupled Systems with Parallelised Waveform Relaxation.
In: IEEE Transactions on Magnetics, 56, (2), pp. 1–4, ISSN: 0018-9464, DOI: 10.1109/TMAG.2019.2952695, ARXIV: 1909.08895. [Article]
Bortot, Lorenzo ; Cortes Garcia, Idoia ; De Gersem, Herbert ; Mentink, Matthias ; Van Nugteren, Jeroen ; Schöps, Sebastian ; Verweij, Arjan (2020):
Coupled A-H Field Formulation for High-Temperature Superconducting Magnets in COMSOL Multiphysics.
In: COMSOL Conference 2020, Virtual Event. URL: https://www.comsol.com/papers-presentations. [Poster]
Bortot, Lorenzo ; Cortes Garcia, Idoia ; De Gersem, Herbert ; Mentink, Matthias ; Van Nugteren, Jeroen ; Verweij, Arjan ; Schöps, Sebastian (2020):
Coupled A-H Field Formulation For High-Temperature Superconducting Magnets In COMSOL Multiphysics.
In: COMSOL Conference 2020, Virtual Event. URL: https://www.comsol.com/papers-presentations. [Talk]
Bortot, Lorenzo ; Auchmann, Bernhard ; Cortes Garcia, Idoia ; De Gersem, Herbert ; Maciejewski, Michał ; Mentink, Matthias ; Schöps, Sebastian ; Van Nugteren, Jeroen ; Verweij, Arjan (2020):
A Coupled A-H Formulation for Magneto-Thermal Transients in High-Temperature Superconducting Magnets.
In: IEEE Transactions on Applied Superconductivity, ISSN: 1051-8223, DOI: 10.1109/TASC.2020.2969476, ARXIV: 1909.03312. [Article]
2019
Kulchytska-Ruchka, Iryna ; Cortes Garcia, Idoia ; De Gersem, Herbert ; Schöps, Sebastian (2019):
Parallel Methods for Coupled Differential Algebraic Equations.
In: 9th Descriptor Workshop 2019, Paderborn. URL: https://www.mpi-magdeburg.mpg.de/de/descriptor2019. [Talk]
Kulchytska-Ruchka, Iryna ; Cortes Garcia, Idoia ; Schöps, Sebastian (2019):
Multirate Parareal with Application in Electrical Engineering.
In: SIAM Conference on Computational Science and Engineering (CSE) 2019, Spokane, Washington, USA. URL: https://www.siam.org/conferences/CM/Main/cse19. [Talk]
Cortes Garcia, Idoia ; Schöps, Sebastian ; De Gersem, Herbert ; Baumanns, Sascha. Systems of Differential Algebraic Equations in Computational Electromagnetics. In Applications of Differential-Algebraic Equations: Examples and Benchmarks, Differential-Algebraic Equations Forum. Springer, 2019. [In Collection]
Cortes Garcia, Idoia ; Pade, Jonas ; Schöps, Sebastian ; Strohm, Christian ; Tischendorf, Caren (2019):
Waveform relaxation for field/circuit coupled problems with cutsets of inductances and current sources.
In: Proceedings of the 2019 International Conference on Electromagnetics in Advanced Applications (ICEAA), 1286–1286. IEEE. ISBN: 978-1-7281-0562-8, DOI: 10.1109/ICEAA.2019.8878955, URL: https://ieeexplore.ieee.org/xpl/conhome/8868012/proceeding. [In Proceedings]
Cortes Garcia, Idoia ; Pade, Jonas ; Schöps, Sebastian ; Strohm, Christian ; Tischendorf, Caren (2019):
Waveform Relaxation for Field/Circuit Coupled Problems With Cutsets of Inductances and Current Sources.
In: 21st International Conference on Electromagnetics in Advanced Applications (ICEAA 2019), Granada, Spain. URL: http://www.iceaa.net/j3/. [Talk]
Cortes Garcia, Idoia ; Kulchytska-Ruchka, Iryna ; Schöps, Sebastian (2019):
Efficient Simulation of Field/Circuit Coupled Systems with Parallelised Waveform Relaxation.
In: 22nd Conference on the Computation of Electromagnetic Fields (COMPUMAG 2019), Paris, France. International Compumag Society. URL: http://www.compumag2019.com. [Poster]
Cortes Garcia, Idoia ; Kulchytska-Ruchka, Iryna ; Schöps, Sebastian (2019):
Parallel-in-time methods for field/circuit coupled differential algebraic equations.
In: International Conference on Scientific Computation and Differential Equations (SciCADE) 2019, Innsbruck, Austria. URL: https://scicade2019.uibk.ac.at. [Talk]
Cortes Garcia, Idoia ; De Gersem, Herbert ; Schöps, Sebastian (2019):
DAE Index of refined models and circuits.
In: 9th Descriptor Workshop 2019, Paderborn. URL: https://www.mpi-magdeburg.mpg.de/de/descriptor2019. [Talk]
Bortot, Lorenzo ; Cortes Garcia, Idoia ; De Gersem, Herbert ; Mentink, Matthias ; Verweij, Arjan ; Schöps, Sebastian (2019):
Field-Circuit Coupling Interface for Solid Conductors in the Mixed A-H Field Formulation.
In: Workshop on Advances in Electromagnetic Research – KWT 2019, Rietzlern, Austria. URL: http://maxwell-in-motion.org. [Talk]
2018
Maciejewski, Michał ; Bayrasy, Pascal ; Wolf, Klaus ; Wilczek, Michał ; Auchmann, Bernhard ; Griesemer, Tina ; Bortot, Lorenzo ; Prioli, Marco ; Fernandez Navarro, Alejandro Manuel ; Schöps, Sebastian ; Cortes Garcia, Idoia ; Verweij, Arjan (2018):
Coupling of Magnetothermal and Mechanical Superconducting Magnet Models by Means of Mesh-Based Interpolation.
In: IEEE Transactions on Applied Superconductivity, ISSN: 1051-8223, DOI: 10.1109/TASC.2017.2786721. [Article]
Cortes Garcia, Idoia ; Kulchytska-Ruchka, Iryna ; Schöps, Sebastian (2018):
Parallelised Waveform Relaxation for Field/Circuit Coupled Systems.
In: Numdiff-15, Halle. URL: https://sim.mathematik.uni-halle.de/numdiff/Numdiff15/. [Talk]
Cortes Garcia, Idoia ; De Gersem, Herbert ; Schöps, Sebastian (2018):
Generalised elements for the analysis of field/circuit coupled systems.
In: Workshop on Advances in Electromagnetic Research – KWT 2018, Rietzlern, Austria. URL: http://maxwell-in-motion.org. [Poster]
Cortes Garcia, Idoia ; De Gersem, Herbert ; Schöps, Sebastian (2018):
Generalised elements for the analysis of field/circuit coupled systems.
In: 20th European Conference on Mathematics for Industry (ECMI 2018), Budapest, Hungary. URL: http://ecmi.bolyai.hu. [Talk]
Cortes Garcia, Idoia ; De Gersem, Herbert ; Förster, Peter ; Kulchytska-Ruchka, Iryna ; Moskalew, Artem ; Quetscher, Frederik ; Schöps, Sebastian (2018):
Time parallelised Waveform Relaxation for Field/Circuit Coupled Systems.
In: 5th STEAM Collaboration Meeting, CERN, Geneva. URL: https://indico.cern.ch/event/731743/. [Talk]
Cortes Garcia, Idoia ; De Gersem, Herbert ; Schöps, Sebastian (2018):
Generalised elements for field/circuit coupled systems.
In: 5th STEAM Collaboration Meeting, CERN, Geneva. URL: https://indico.cern.ch/event/731743/. [Talk]
Cortes Garcia, Idoia ; Schöps, Sebastian ; Maciejewski, Michał ; Bortot, Lorenzo ; Auchmann, Bernhard ; Bartel, Andreas ; Günther, Michael (2018):
Waveform relaxation for coupled problems.
In: Theory and Practice of Co-Simulation of Power Systems, Delft. TU Delft. URL: https://www.aanmelder.nl/seminarpowersystems2018/. [Talk]
Bortot, Lorenzo ; Auchmann, Bernhard ; Cortes Garcia, Idoia ; Fernando Navarro, Alejando M. ; Maciejewski, Michał ; Mentink, Matthias ; Prioli, Marco ; Ravaioli, Emmanuele ; Schöps, Sebastian ; Verweij, Arjan (2018):
STEAM: A Hierarchical Co-Simulation Framework for Superconducting Accelerator Magnet Circuits.
In: IEEE Transactions on Applied Superconductivity, ISSN: 1051-8223, DOI: 10.1109/TASC.2017.2787665. [Article]
Bortot, Lorenzo ; Auchmann, Bernhard ; Maciejewski, Michał ; Prioli, Marco ; Schöps, Sebastian ; Cortes Garcia, Idoia ; Verweij, Arjan (2018):
A 2-D Finite-element Model for Electrothermal Transients in Accelerator Magnets.
In: IEEE Transactions on Magnetics, 54, (3), pp. 1–4, ISSN: 0018-9464, DOI: 10.1109/TMAG.2017.2748390, ARXIV: 1710.01187. [Article]
2017
Schöps, Sebastian ; Cortes Garcia, Idoia ; Bortot, Lorenzo ; Maciejewski, Michał ; Auchmann, Bernhard (2017):
Reduced Order Modelling for the Simulation of Quenches in Superconducting Magnets.
In: 7th GACM Colloquium on Computational Mechanics, Stuttgart. URL: https://www.gacm2017.uni-stuttgart.de. [Talk]
Schöps, Sebastian ; Cortes Garcia, Idoia ; Maciejewski, Michał ; Auchmann, Bernhard (2017):
Reduced Order Modelling for the Simulation of Quenches in Superconducting Magnets.
In: 7th GACM Colloquium on Computational Mechanics. DOI: 10.18419/opus-9334, ARXIV: 1710.04859. [In Proceedings]
Maciejewski, Michał ; Auchmann, Bernhard ; Bortot, Lorenzo ; Cortes Garcia, Idoia ; Fernandez Navarro, Alejandro Manuel ; Ghini, Jonas Blomberg ; Prioli, Marco ; Schöps, Sebastian ; Mentink, Matthias ; Verweij, Arjan (2017):
Architecture of a Hierarchical Co-Simulation Framework for the Simulation of Transient Effects in Superconducting Circuits.
In: IUTAM Symposium on Co-Simulation and Solver-Coupling, Darmstadt, Germany. URL: http://www.ad.tu-darmstadt.de/startseite_ad/iutam_1/homepage_iutam.en.jsp. [Talk]
Maciejewski, Michał ; Cortes Garcia, Idoia ; Schöps, Sebastian ; Auchmann, Bernhard ; Bortot, Lorenzo ; Prioli, Marco ; Verweij, Arjan (2017):
Application of the Waveform Relaxation Technique to the Co-Simulation of Power Converter Controller and Electrical Circuit Models.
In: 22nd International Conference on Methods and Models in Automation and Robotics (MMAR 2017), Miedzyzdroje, Poland. URL: http://mmar.edu.pl. [Talk]
Maciejewski, Michał ; Cortes Garcia, Idoia ; Schöps, Sebastian ; Auchmann, Bernhard ; Bortot, Lorenzo ; Prioli, Marco ; Verweij, Arjan (2017):
Application of the Waveform Relaxation Technique to the Co-Simulation of Power Converter Controller and Electrical Circuit Models.
In: 22nd International Conference on Methods and Models in Automation and Robotics (MMAR 2017), 837–842. IEEE. DOI: 10.1109/MMAR.2017.8046937, ARXIV: 1704.02839. [In Proceedings]
Cortes Garcia, Idoia ; Schöps, Sebastian ; Maciejewski, Michał ; Bortot, Lorenzo ; Auchmann, Bernhard (2017):
Coupled Simulation of LHC's Quench Protection System.
In: GAMM Activity Group CSE Workshop 2017, Jülich. URL: http://www.fz-juelich.de/ias/jsc/EN/Expertise/Workshops/Conferences/GAMM-CSE-2017/_node.html. [Talk]
Cortes Garcia, Idoia ; Schöps, Sebastian ; Maciejewski, Michał (2017):
Optimized Field/Circuit Coupling for the Simulation of Quenches in Superconducting Magnets.
In: Workshop on Advances in Electromagnetic Research – KWT 2017, Rietzlern, Austria. URL: http://maxwell-in-motion.org. [Talk]
Cortes Garcia, Idoia ; Schöps, Sebastian (2017):
Optimized Field/Circuit Coupling for the Simulation of Quenches in Superconducting Magnets.
In: ENUMATH 2017, Voss, Norway. URL: http://www.uib.no/en/enumath2017. [Talk]
Cortes Garcia, Idoia ; Schöps, Sebastian (2017):
Field/Circuit Coupling with A-V and T-Omega Formulations.
In: International Conference on Scientific Computation and Differential Equations (SciCADE 2017), Bath, United Kingdom. [Talk]
Cortes Garcia, Idoia ; Schöps, Sebastian ; Bortot, Lorenzo ; Auchmann, Bernhard ; Maciejewski, Michał ; Prioli, Marco ; Verweij, Arjan (2017):
Optimized Field/Circuit Coupling for the Simulation of Quenches of Superconducting Magnets.
In: 21st Conference on the Computation of Electromagnetic Fields (COMPUMAG 2017), Daejeon, Korea. International Compumag Society. URL: http://compumag2017.com. [Poster]
Cortes Garcia, Idoia ; Schöps, Sebastian ; Maciejewski, Michał (2017):
Optimized Field/Circuit Coupling for the Simulation of Quenches in Superconducting Magnets.
In: Seminar: Mathematische Modellierung und numerische Simulation, Humboldt-Universität zu Berlin, Berlin, Germany. URL: https://www.math.hu-berlin.de/~numteam1. [Talk]
Cortes Garcia, Idoia ; Schöps, Sebastian ; Bortot, Lorenzo ; Maciejewski, Michał ; Prioli, Marco ; Fernandez Navarro, Alejandro Manuel ; Auchmann, Bernhard ; Verweij, Arjan (2017):
Optimized Field/Circuit Coupling for the Simulation of Quenches in Superconducting Magnets.
In: IEEE Journal on Multiscale and Multiphysics Computational Techniques, 2, (1), pp. 97–104, ISSN: 2379-8793, DOI: 10.1109/JMMCT.2017.2710128, ARXIV: 1702.00958. [Article]
Bortot, Lorenzo ; Auchmann, Bernhard ; Cortes Garcia, Idoia ; Fernando Navarro, Alejandro Manuel ; Maciejewski, Michał ; Mentink, Matthias ; Prioli, Marco ; Ravaioli, Emmanuele ; Schöps, Sebastian ; Verweij, Arjan (2017):
STEAM: A Hierarchical Co-Simulation Framework for Superconducting Accelerator Magnet Circuits.
In: MT 25 Conference 2017, Amsterdam. URL: http://mt-25.org. [Poster]
Bortot, Lorenzo ; Maciejewski, Michał ; Prioli, Marco ; Fernandez Navarro, Alejandro Manuel ; Schöps, Sebastian ; Cortes Garcia, Idoia ; Auchmann, Bernhard ; Verweij, Arjan (2017):
Simulation of Electro-Thermal Transients in Superconducting Accelerator Magnets with COMSOL Multiphysics.
In: COMSOL Day, Zurich. [Talk]
Bortot, Lorenzo ; Auchmann, Bernhard ; Cortes Garcia, Idoia ; Fernandez Navarro, Alejandro Manuel ; Maciejewski, Michał ; Mentink, Matthias ; Prioli, Marco ; Ravaioli, Emmanuele ; Schöps, Sebastian ; Verweij, Arjan (2017):
STEAM: A Hierarchical Co-Simulation Framework for Superconducting Accelerator Magnet Circuits.
In: Workshop on Advances in Electromagnetic Research – KWT 2017, Rietzlern, Austria. URL: http://maxwell-in-motion.org. [Talk]
Bortot, Lorenzo ; Auchmann, Bernhard ; Cortes Garcia, Idoia ; Fernando Navarro, Alejando Manuel ; Maciejewski, Michał ; Mentink, Matthias ; Prioli, Marco ; Ravaioli, Emmanuele ; Schöps, Sebastian ; Verweij, Arjan (2017):
STEAM: A Hierarchical Co-Simulation Framework for Superconducting Accelerator Magnet Circuits.
In: MT 25 Conference 2017, Amsterdam. URL: http://mt-25.org. [Poster]
Bortot, Lorenzo ; Auchmann, Bernhard ; Maciejewski, Michał ; Prioli, Marco ; Schöps, Sebastian ; Cortes Garcia, Idoia ; Verweij, Arjan (2017):
A 2-D Finite-element Model for Electro-thermal Transients in Accelerator Magnets.
In: 21st Conference on the Computation of Electromagnetic Fields (COMPUMAG 2017), Daejeon, Korea. International Compumag Society. URL: http://compumag2017.com. [Talk]
2016
Cortes Garcia, Idoia ; Krimm, Alexander ; De Gersem, Herbert ; Schöps, Sebastian (2016):
Structural and Implementational Aspects of Field/Circuit Coupling in $A-V$ and $T-\Omega $ Based Formulations.
In: 11th Conference on Scientific Computing in Electrical Engineering (SCEE 2016), St. Wolfgang, Austria. URL: http://www.ricam.oeaw.ac.at/events/conferences/scee2016. [Talk]
Cortes Garcia, Idoia ; De Gersem, Herbert ; Schöps, Sebastian (2016):
Field/Circuit Coupling with $A-V$ and $T-\Omega $ Formulation.
In: Workshop on Advances in Electromagnetic Research – KWT 2016, Rietzlern, Austria. URL: http://maxwell-in-motion.org. [Poster]
Cortes Garcia, Idoia ; De Gersem, Herbert ; Schöps, Sebastian (2016):
Optimised Schwarz Methods for Field/Circuit Coupling.
In: 3rd STEAM Collaboration Meeting, Paul Scherrer Institut, Brugg. URL: https://indico.cern.ch/event/591096/. [Talk]
Bortot, Lorenzo ; Maciejewski, Michał ; Prioli, Marco ; Fernandez Navarro, Alejandro Manuel ; Schöps, Sebastian ; Cortes Garcia, Idoia ; Auchmann, Bernhard ; Verweij, Arjan (2016):
Simulation of Electro-Thermal Transients in Superconducting Accelerator Magnets with COMSOL Multiphysics.
In: COMSOL Conference 2016, Munich. URL: https://www.comsol.com/papers-presentations. [Poster]
Bortot, Lorenzo ; Maciejewski, Michał ; Prioli, Marco ; Fernandez Navarro, Alejandro Manuel ; Schöps, Sebastian ; Cortes Garcia, Idoia ; Auchmann, Bernhard ; Verweij, Arjan (2016):
Simulation of Electro-Thermal Transients in Superconducting Accelerator Magnets with COMSOL Multiphysics.
In: COMSOL Conference 2016, Munich. URL: https://www.comsol.com/papers-presentations. [Talk]
Bortot, Lorenzo ; Maciejewski, Michał ; Prioli, Marco ; Fernandez Navarro, Alejandro Manuel ; Schöps, Sebastian ; Cortes Garcia, Idoia ; Auchmann, Bernhard ; Verweij, Arjan (2016):
Simulation of Electro-Thermal Transients in Superconducting Accelerator Magnets with COMSOL Multiphysics.
In: Proceedings of the European COMSOL Conference 2016. URL: https://www.comsol.com/conference2016/download-paper/38161. [In Proceedings]